The Netherlands Table Tennis Association has chosen the beautiful and impressive Ahoy Sportscentre for the organisation of the European Veterans Championships in 2007. It is a unique building with lots of special facilities.
Facilities in and around Ahoy
Parking facilities;
Campers/caravans stalled at the venue;
Good accessibility by car and public transport;
Subway and busses near the hall;
Shopping centre and park near the hall;
Fully air conditioned playing hall of 10.000 m2;
Several restaurants, pubs and coffee corners;
Dressing rooms and showers;
Internet café;
Special hall for promo-activities.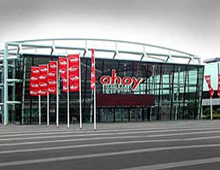 If you are tired or hungry Ahoy Plaza is the solution. Ahoy Plaza offers fine restaurants and nice pubs during the tournament. Apart from sports events it is also the scene of many exhibitions, rock concerts and conferences. The new Scheldehal in this building has a surface of no less than 10.000 square metres. This means that all matches will be played in this hall, with bleachers around the tables. Therefore, participants, visitors, umpires and officials don't have to move around from one hall to the next all the time. This is particularly nice for the players and visitors. Moreover, it is beneficial to the wonderful ambiance when all competitions can be played in one hall. Besides the Ahoy plaza, hall 4 is also beautifully decorated with a number of spectacular stands for food and beverages. You will be stunned by the decoration. There is a number of training tables present in this hall. In the hall next door, there is a promotion village where you can find all kinds of table tennis related articles.
Ahoy Rotterdam is simple to reach by the highway around Rotterdam. On the A15, (Rotterdam-Zuid Ridderkerk – Europoort), you will find the exit Ahoy. Ahoy is situated 2 kilometres from the highway.