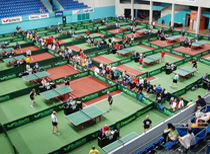 The 7th European Veterans Table Tennis Championships will take place between 25th and 30th June, 2007 in Sports Venue Ahoy Rotterdam.
Eligibility
The EVC is open to all interested players aged 40 years and over or who will reach their 40th birthday during the year the event takes place (born 1967 or earlier).
Event categories
The following categories will form part of the championships:
40 – 49 years (born 1967 or before)
50 – 59 years (born 1957 or before)
60 – 64 years (born 1947 or before)
65 – 69 years (born 1942 or before)
70 – 74 years (born 1937 or before)
75 – 79 years (born 1932 or before)
80 – 84 years (born 1927 or before)
Over 85 years (born 1922 or before
Each category will have the following events:
Men's and women's Singles
Men's en women's Doubles
Each player has to participate in his own event category. Exceptions will be made for doubles pairs, where players do not belong to the same event category. In such cases, the pair will participate in the event category of the youngest player.
Playing system
Information about the playing system is to be found in Chapter K. 10 of the ETTU-regulations (European Veterans Championships)
Maximum number of participants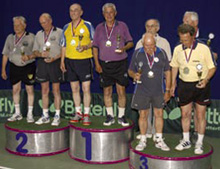 A maximum number of 2,800 players will be allowed to participate in the EVC 2007 to be held in Rotterdam. Registration of players will only take place upon receipt of the full entry fee payment. Adjudication of entry place will be handled on a "first come, first served" basis. The number of players per association is limited to 750. Registrations received above this number will be put on a waiting list, by order of date of entry received. Vacancies will be filled with names from the waiting list; those moving up will receive an invoice and the entry fee is due immediately. The amount of the entry fee is determined by the date registration is received. After April 15th 2006 neither participants, nor those to move up, will be accepted.
Practice possibilities
Practice possibilities are on Saturday June 23th, 2007 as well as on Sunday June 24th, 2007 in Ahoy. During the competition a practice hall is available with approx. 20 tables.
Daily Entry tickets
Tickets for spectators to the EVC will only be sold on the day at the cash desk. Entry tickets are day passes with free seating. Entry tickets will not give access to the opening ceremony, closing ceremony and the fare well party. These activities can only be attended by accreditated persons.
Registration
Everyone who would like to participate in the European Veterans Table Tennis Championships 2007 has to register in time and pay the full entry fee, otherwise participation is impossible. When full payment has been received, the participant will receive his confirmation of participation with his personal registration number from the organisation.
Entry fee
The entry fee for players will be:
€ 110 for players who register prior to March 1st 2007;
€ 150 for players who register from March 1st until April 15th 2007.
The entry fee for accredited persons will be:
€ 50 for persons who register prior to March 1st 2007;
€ 70 for persons who register from March 1st, until April 15th 2007
Discount for groups:
5% for of the fee vanaf 25 persons (players and accredited persons)
10% for of the fee from 50 persons (players and accreditet persons)
Services for players and other accredited persons
All accredited persons are entitled to:
admission to the opening ceremony;
admission to all competitions;
admission to the closing ceremony;
access to the fare well party;
free programm guide;
discount for access to the public transport system in Rotterdam during the EVC;
discount on official shirts, tracksuits, etc;
souvenirs from the organisation.